2018 Chrysler Pacifica Driving Impressions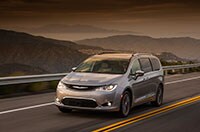 Chrysler's V6 engine delivers plenty of power to send the Pacifica energetically forward, at a fully appropriate pace.
Crisp performance is complemented by spirited handling and a supple ride. Road behavior ranks at or near the top of the minivan class. In fact, a Pacifica handles far better than most minivan drivers are likely to expect.
A tight body structure helps yield a smooth, controlled, well-damped ride. Comparatively firm springs and dampers yield a composed feel over almost any surface, including harsh, flawed pavement.
Electric power steering has a little heft, and helps the Pacifica track nicely on the highway. Winding roads aren't a problem, and the steering feels natural as it winds and unwinds. Brakes could stand some improvements, as the pedal feels somewhat stiff, lacking a progressive feel.
A rotary dial controls the transmission, which responds predictably, without the jerkiness or stumbling behavior suffered by some 9-speed units.
Pacificas top the minivan class in fuel economy, though not by much. The 2018 Pacifica is EPA-rated at 18/28 mpg City/Highway, or 22 mpg Combined. The Plug-in Hybrid is EPA-rated at 84 MPGe (equivalent) City, 32 mpg Combined.