2011 Chrysler Town & Country Introduction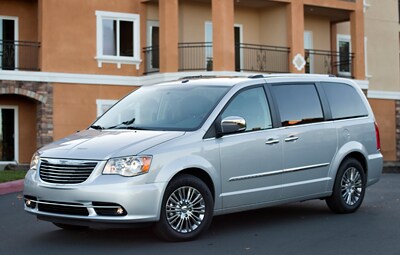 The 2011 Chrysler Town & Country features revised styling, a new engine, an upgraded suspension, and a reworked interior. This represents an extensive mid-cycle update for the 2011 models, improving them substantially over previous models.
The 2011 Town & Country lineup offers just one engine, replacing three different V6s offered for 2010. The new engine is a 3.6-liter V6 with considerably more power. This brings Chrysler in line with the fine V6s offered by the competition. Fuel economy remains steady with an EPA-estimated 17/25 mpg City/Highway.
The 2011 Town & Country sits lower than before and its suspension has been stiffened to make it more controlled. The ride is still quite smooth, and the wallow and float we noted on the previous model is gone.
The interior is improved for 2011. While the dashboard is still mostly plastic, so are those in most rivals, including the Honda Odyssey and Toyota Sienna. The look is more elegant, the materials are richer, the gauges look better, and there are now soft-touch door tops.
Town & Country's entertainment and seating options are the best in the class, matched only by the Dodge Grand Caravan. Improved Stow 'n Go seating with better second-row seats is standard. These seats tuck nicely into the floor, and when they're up, the floor bins offer storage space. The rear seats fold into a well behind them, allowing a perfectly flat, voluminous rear storage area. With the third row up storage well offers space for groceries and other small cargo. There are also many entertainment choices, including rear TV, two DVD players, a powerful stereo and iPod connectivity. A couple of features have been dropped for 2011, notably FloTV and Swivel 'n Go seating.
The Town & Country is a great vehicle for families that need to haul kids and cargo on a regular basis. It has always offered a lot of interior utility, but the 2011 changes make the environment more pleasant, the handling more controlled, and power and fuel economy better. It is priced higher, though, so customers looking for more affordable alternatives should look to the Dodge Grand Caravan or other worthy competitors.